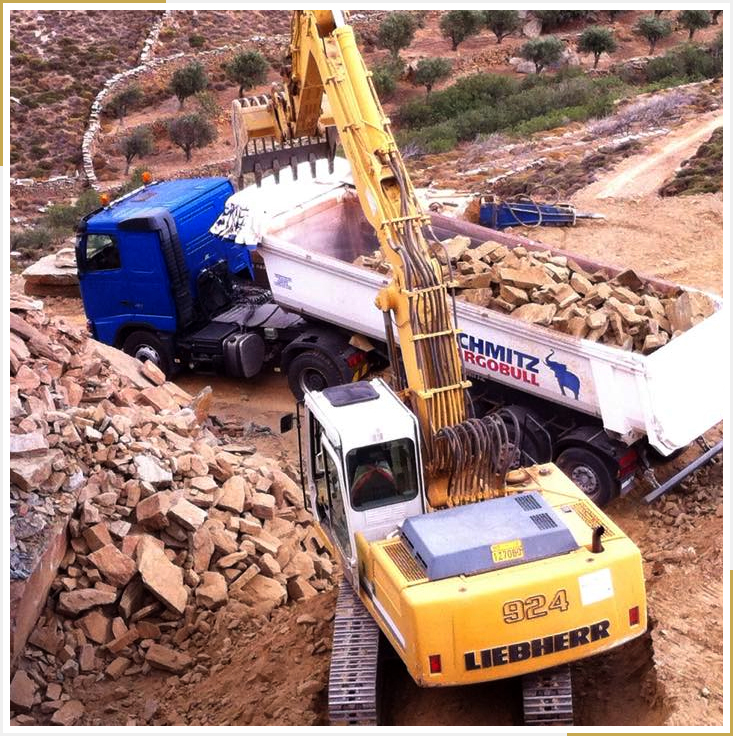 FIORANTIS
Stone Quarry Tinos
The stone quarry "Fiorantis" located in Tinos, is a family business that has been active for several years in the mining, trading and cutting of Tinos stone and slab. It operates in a privately owned quarry site, fully licensed, in the area of ​​"Gda" or "Agia", on the provincial road of Chora Tinos - Kalloni (or Komi). It is located about 10 kilometers from Tinos Town, at a point that can directly serve all areas of the island.
With modern methods, respecting the environment and having the right machinery we make safe and well-extracted stone from our quarries. The stones are then selected in size, processed, cut to any size and shape you desire. Finally they are packaged and shipped directly to your place. The quarry is operated in such a way that the mining site is fully restored and fully integrated into the local ecosystem.
In our quarry we produce premium quality slabs suitable for floors and roofs as well as stones for building and lining. The stones and slabs we offer stand out for their unmatched quality, high durability and perfect application.
The transportation of our products is carried out by the proprietary vehicles of our company, wherever we are required in Tinos and all over Greece. To facilitate transportation, we have cranes for safe and fast placement at the place you want.
At the same time, we have experienced workshops for the placement of stone or slab as well as the construction of stone houses throughout Tinos.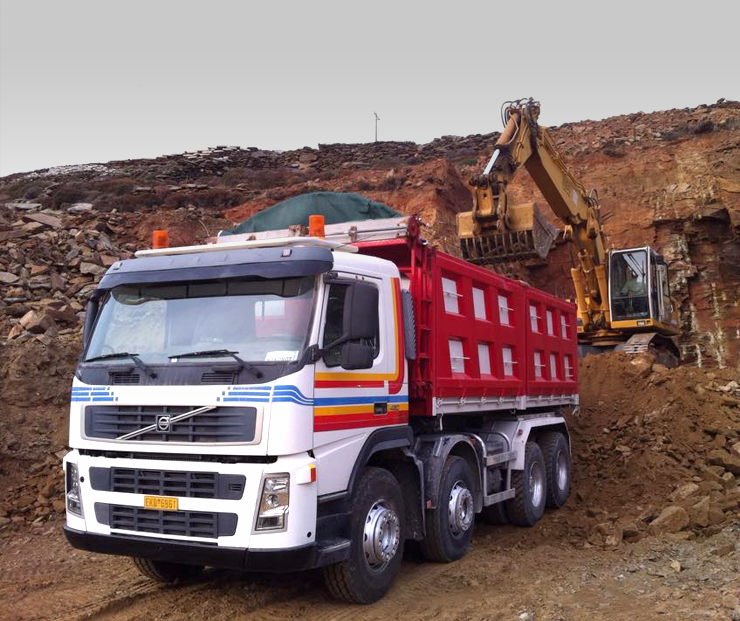 ENVIRONMENTAL CARE
Quarrying is carried out in strict compliance with the existing institutional framework for quarries (Mining and Quarrying Regulation), the relevant technical and environmental studies and the environmental conditions under which the business is licensed. The quarry systematically performs dust and noise measurements and measures are taken to reduce them.
In addition, plantings are already being planted at appropriate points in the quarry area, with the aim of further refurbishing the site and harmonizing it with the surrounding natural environment.
The company works with the local environmental club Friends of the Green (https://tinosgreen.wordpress.com/) to implement and promote its activities.
Throughout the years we have been active in stone and slab mining, our quarry in Tinos has been supplying individuals, technical companies, contractors, architects, engineers, decorators as well as traders of high quality stones and slabs with immediate delivery.
CONTACT WITH US
We are always at your disposal to solve any queries related to them
our products or to give us your order